Mane: a reference to hair
Monday: the second day of a hair professional's weekend
Even on a stylist's day off, she – that would be me – is still thinking about your hair! Welcome to my Mane-ly Monday, a time and space for collective observations and opinions on all things hair:  trends, techniques, treatments, tools, environment, and more. As I reflect and recharge, I must confess that I am one hand in and one hand out of Beyonce's latest release, Lemonade – all because of the lyric, "Better call Becky with the good hair."  I'm not stirring controversy. In fact, I consider myself to be a member of the Beyhive and love Beyonce's artistry, fierceness, and fabulousness. Further, I am in total awe of how she surrounds herself with courageous and amazing women and girls, including Sabrina Fulton and Leslie McSpadden (mothers of Trayvon Martin and Michael Brown, respectively), Serena Williams, Quvenzhané Wallis, Zendaya, Winnie Harlow, Amandla Stenberg, and more.  That said, we must stop, I repeat STOP, perpetuating hair stereotypes.  It's divisive and harmful.  Good hair is healthy hair, no matter the type or texture.  Now, let's change up the lyrics and sing "Better call Karline's for the healthy hair!"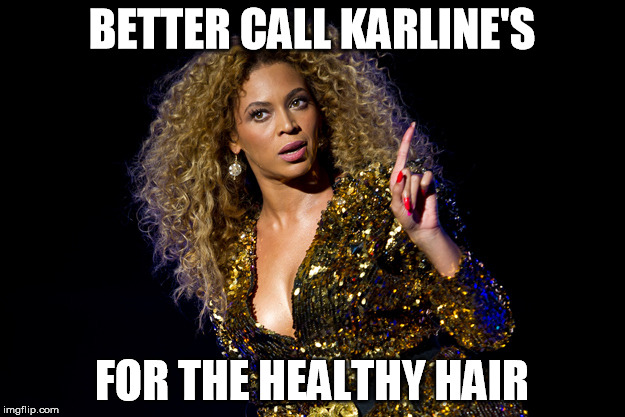 Here are a couple of perspectives on the notion of good hair.
I encourage you to start a conversation, particularly with our children.  Empower them to be bold and confident.  Teach them self-esteem and to embrace their unique beauty, inside and out.  And when it comes to our hair, we all need to free our minds, so that the rest will follow.  Sorry Bey, but this is the tune I'm humming today.
Join our chorus, make an appointment to visit Karline's Salon, your West Palm Beach sanctuary for healthy and happy hair.
Have a great week!!
Karline
PS:  For more "tea" on Lemonade, I highly recommend the article, Beyoncé's Lemonade and the Undeniable Power of a Black Woman's Vulnerability, featured on vulture.com.